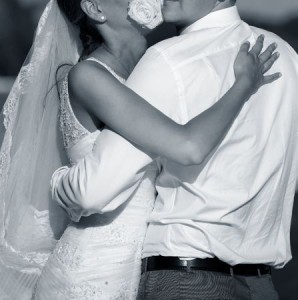 It's the eternal question when planning a wedding: should we book a DJ or hire a live band? Future husbands and wives can debate long periods over this particular topic and cause unneeded stress. To help with planning (and the debate); let's take a specific look at the benefits of booking live music for your wedding over hiring a DJ.
First and foremost, there's the ambience to consider. A DJ is nice, but having someone spinning pre-recorded tunes sounds like a canned performance (mainly because that's exactly what it is). There's a lot to be said for a live Band and how they can help set a specific tone in the room. They can help breach the generation gap between older and younger guests, something that a DJ has trouble doing since they are typically much more youth-oriented.
The selection of music is much more focused with a band. Usually, the band will play all genres of music, including the bride and groom's favorite tunes. This means guests will be able to enjoy all types of music and how it's performed, instead of just hearing the same songs that you would on the radio.
Live music is a unique experience, and your guests will see it that way. It can feel like a private concert and offer more class and sophistication to the event.  Moreover, it will also make more people want to leave their tables to dance. Depending on your themes, a live Band can easily catapult the wedding into a memorable experience as opposed to just another wedding.
Lastly, your guests will remember and talk about the performer. They won't even remember a DJ's name, or what he played. Live music sets the bar high, and helps your guests distinguish your wedding from other ceremonies they've attended.
Regardless of your musical preferences, CK Entertainment will be able to help you find the right CK Band for your ceremony.  Check out our selection of performers, and please feel free to call us at 954.436.1230 with any questions you may have.