Send your attendees away with an unforgettable memory when you hire a motivational or a celebrity speaker at your next presentation. Whatever your message might be, consider having it delivered by a beloved or well-known VIP. Give your school, business, or organization the entertainment that they deserve using an experienced and well-known speaker. Trust CK Entertainment to find the perfect person for your needs!
Celebrity Guest & Motivational Speakers in Ft. Lauderdale, FL
Hiring a motivational or celebrity speaker can help make the message you deliver have a greater impact on your audience. If you're searching for a celebrity guest or motivational speak in Ft. Lauderdale, FL., CK Entertainment can help find the best fit for your needs.
Hire a Celebrity in Palm Beach, FL
If you want to improve the culture of your business, school, organization, or other group, consider hiring a professional leadership speaker to help you improve your chances. As "an outsider" and as a person that many people might recognize and respect, an objective voice might be exactly what your group needs to hear.
Teamwork is required to create a successful business, team, group, or project. Hire a celebrity at your Palm Beach, FL event to help drive home a message to inspire an audience.
Book a Celebrity for an Event in Key Largo, FL
Motivational speakers are a wonderful tool for colleges universities, and if you're located in South Florida, consider using CK Entertainment. Book a celebrity for an event in Key Largo, FL, whether it's a college or university. It's a great way to entertain students with a new, credible voice and positive message that they could benefit from for years to come.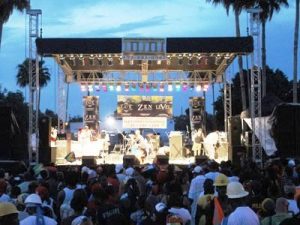 Celebrity Performers & Musicians for Hire in South Florida
Have you ever heard of any of these experienced stars? Chances are you have! We are proud to offer an extensive selection of celebrity performers & musicians for hire in South Florida due to our long-lasting relationships with speakers worldwide.
Book a stellar star today with CK Entertainment. With one of these headliners putting on the performance of a lifetime, your audience will be all ears. Scroll down or click here to download a partial list of entertainers for hire, if you do not see the entertainer you're interested in, please let us know.
We also arrange, schedule, and plan the appearance or performance of a celebrity at your party, event, or fundraiser, in addition to producing the show or speaking engagement.
The full production services we can provide include:
Negotiations for Artist Pricing
Union Negotiations
Orchestra Contracting
Staging, Lighting, Sound
Power for Outside Concerts
Coordination of airport transfers to Hotel or Venue
Coordination of Security
Transportation
Our past celebrity guests featured legendary musical performers such as Gloria Estefan, Ray Charles, and Tony Bennet, as well as modern musical artists Kelly Clarkson and Boyz II Men. We have also worked with well-known celebrities including Donald Trump, Kathie Lee Gifford, and President Bill Clinton. As Florida's premier celebrity booking agency, we work diligently to ensure the guest of your choice for your event.
No matter where you are in South Florida, CK Entertainment is dedicated to finding the right entertainer or speaker for your event. Contact us today to reserve speakers in Ft. Lauderdale, South Florida, Palm Beach, Miami, Miami Beach, Naples, Marco Island, and Key Largo, FL.
Celebrity Entertainers

Adele
Dave Grohl
Jennifer Lopez
Paul Anka
Alicia Keys
Dave Matthews Band
Jimmy Buffett
Paul McCartney
Andrea Bocelli
Diana Krall
John Fogerty
Paul Simon
Aretha Franklin
Diana Ross
John Legend
Perter Gabriel
Art Garfunkel
Don Henley
John Mayer
Rihanna
Barry Manilow
Earth, Wind & Fire
John Mellencamp
Rod Stewart
Bette Midler
Enrique Iglesias
Jon Bon Jovi
Sarah Brightman
Beach Boys
Elton John
Josh Groban
Shania Twain
Billy Joel
Eric Clapton
Journey
Seal
Black Eyed Peas
Faith Hill
Justin Timberlake
Sheryl Crow
Brian Wilson
Frankie Valli
Katy Perry
Smokey Robinson
Bon Jovi
Garth Brooks
Lionel Richie
Stevie Nicks
Bonnie Raitt
Gloria Estefan
Mary J. Blige
Stevie Wonder
Bruno Mars
Harry Connick Jr.
Maroon 5
Sting
Carlos Santana
Jack Johnson
Michael Bolton
Tom Petty
Celine Dion
Jackson Browne
Michael Bubl è
Tony Bennett
Chicago
James Taylor
Michael McDonald
U2
Cher
Janet Jackson
Neil Diamond
Usher
Chris Botti
Jay Z
Norah Jones

Celebrity Comedians

Gilbert Gottfried
David Letterman
Joe Piscopo
Rich Little
Greg Fitzsimmons
David Spade
John Cleese
Richard Belzer
Hal Sparks
Denis Leary
John Leguizamo
Richard Lewis
Aasif Mandvi
Dennis Miller
John Oliver
Ricky Gervais
Ali Wong
D.l. Hughley
Jon Lovitz
Rita Rudner
Arsenio Hall
Drew Carey
Jon Stewart
Rob Riggle
Artie Lange
Ellen DeGeneres
Judy Gold
Rob Schneider
Aziz Ansari
Frank Caliendo
Kathleen Madigan
Robert Klein
Bill Engvall
Mario Cantone
Kathy Griffin
Rosie O'Donnell
Bill Maher
Marlon Wayans
Kevin James
Russell Peters
Billy Crystal
Martin Lawrence
Kevin Nealon
Russell Brand
Bob Newhart
Hannibal Buress
Kevin Pollak
Sandra Brand
Bob Saget
Howie Mandel
Larry Wilmore
Sandra Bernhard
Brad Garrett
Jackie Mason
Lewis Black
Sarah Silverman
Capitol Steps
Jamie Foxx
Louie Anderson
Seth Meyers
Carol Leifer
Janeane Farofalo
Louis C.K.
Sinbad
Caroline Rhea
Jay Leno
Mal Z. Lawrence
Stephen Colbert
Chelsea Handler
Jay Mohr
Whoopi Goldberg
Steve Harvey
Chris Rock
Jeff Dunham
Will Ferrell
Steven Wright
Chris Tucker
Jeff Foxworthy
Zach Galifianakis
Susie Essman
Colin Quinn
Jeff Garlin
Martin Short
Tim Meadows
Conan O'Brien
Jeffrey Ross
Patton Oswalt
Tina Fey
Craig Ferguson
Jerry Seinfeld
Paul Rodriguez
Todd Barry
Damon Wayans
Jim Carrey
Pauly Shore
Tom Papa
Dana Carvey
Jim Gaffigan
Penn & Teller
Wanda Sykes
Danny Bhoy
Jimmy Fallon
Ralphie May
Wayne Brady
Darrell Hammond
Jimmy Kimmel
Ray Romano
Wendy Liebman

Celebrity Chef's

Aaron Sanchez
Bobby Flay
Giada DeLaurentiss
Rachael Ray
Alain Ducasse
Bubby Valastro
Gordan Ramsey
Rocco Dispirito
Alton Brown
Cat Cora
Guy Fieri
Sandra Lee
Andrew Zimmern
Duff Goldman
Mario Batali
Todd English
Anne Burrell
Emeril Lagasse
Nigella Lawson
Tom Colicchio
Anthony Bourdain
Eric Ripert
Paula Deen
Wolfgang Puck
---
For More Information or to Book your Special Event…
P: 954-436-1230
F: 954-689-4420
C: 954-610-5098
For RFP Inquiries: Click Here
Email: info@ckentertainmentinc.com
---