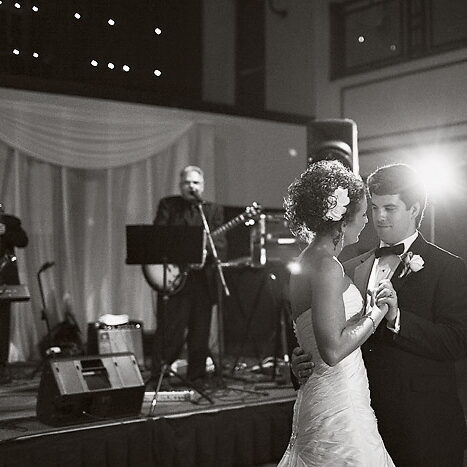 At CK Entertainment, we know just how important it is to pick the right live band or corporate entertainment for your next event. We are an entertainment production company and celebrity booking agency and specialize in hooking our clients up with the entertainment that they want and need for their events. We work closely with them to determine which kind of entertainment would work best for them, and then, we offer them plenty of options and help them decide which live band or corporate entertainment would be best. It makes planning an event in Palm Beach that much easier for them.
Wedding Band for Reception in Palm Beach
When you are looking around for a wedding band for a reception in Palm Beach, you are probably going to be overwhelmed with options. There are so many choices out there, so which one is best for you? Your wedding band needs to be able to entertain your guests and keep the party going. CK Entertainment can provide you with our CK Band and see to it that everyone at your wedding has a great time.
Corporate Event Entertainment
Putting together the entertainment for a corporate event can be a bit challenging for those asked to do it. How do you keep a large group of people entertained at the same time? CK Entertainment can assist you with this challenge by providing you with a long list of entertainers. From singers and live bands to guest speakers and other performers, we have so many options for you. Your corporate event entertainment in Palm Beach will be great when you go with us.
Corporate Events Bands for Hire
In the past, CK Entertainment has provided many corporate event bands for hire to different companies in Palm Beach and the surrounding areas. From well-established acts like The Temptations to bands who make their livings playing at corporate events, we have a bevy of bands available for your corporate event, depending on your needs. Just let us know what kind of band you want, and we will let you know who is available to play at your gig.
Guest Speakers
Have you found that your employees could use some motivation? At your next corporate event, you should bring in a guest speaker from CK Entertainment. We work with many guest speakers who have the experience and knowledge needed to motivate any crowd. We would love to arrange to have one of them come to your next event.
Production Services in Palm Beach
When you're booking talent for an event, don't forget about all of the production services in Palm Beach that you will need. From lighting to a sound system, you will need equipment, and you will need someone who can operate it all. CK Entertainment can provide you with production services so that your event doesn't get sidetracked by production issues.
Stage, Rigging and Lighting Rentals in Palm Beach
Unless you hold big events on a regular basis, you probably don't have a stage or other equipment used to host a live band and other performers. CK Entertainment is here for you when it comes to obtaining stage, rigging, and lighting rentals in Palm Beach. We have all of this equipment on hand and can bring it to you and set it up.
Sound & AV Productions
Last but certainly not least, CK Entertainment has the capability of providing sound and AV productions at corporate events and other big parties. You want everyone to be able to see and hear what's happening, and without sound and audio-visual productions, that will be a real challenge. By allowing us to tackle this aspect of an event for you, you can spend more time enjoying yourself and less time dealing with the headaches that come along with technical issues.
CK Entertainment is committed to providing people in Palm Beach with excellent experiences when it comes to corporate event, wedding, and party planning. Allow us to tell you more about our unique services by calling us at 954-436-1230 today.