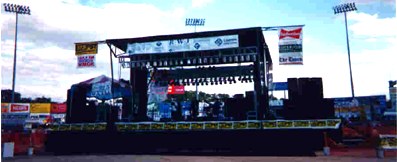 Did you know CK Entertainment has been a leader in the entertainment industry since 1993? Our experience and contacts allow us to help clients with a wide range of needs, including those in need of stage, rigging and lighting rentals in the South Florida area.
Backline Rental and Requirements
If you need the right audio and amplifying equipment for backline bands behind the stage, our experts will find you exactly what you need and will make sure everything is set up correctly.
Sound / Lighting / Staging / Set Design
Having the right sound and lighting systems in place is essential when putting on a music production or some other sort of entertainment event. CK Entertainment will provide you with the right equipment for your event, and we can also assist with staging aspects and set design installations to optimize your performance.
Show Production & On Site Management
Thanks to our years of industry experience, we can help optimize your performance and make sure it goes flawlessly through our show production and on site management services.
Rigging / Stage Crews
Do you need an experienced, expert stage crew for your event production in the South Florida area? If so, we helped augment performances for clients throughout the area, including those in Ft. Lauderdale, Palm Beach, Miami Beach, Miami, Naples, Marco Island and Key Largo.
Production Crew and Staff
Production crews are the unsung heroes of live performances. They make sure everything goes smoothly and that the only thing performers need to worry about is doing what they do best –perform and entertain. C.K. Entertainment will provide you with a production crew and staff that are both talented and experienced.
Logistical Planning / Production & Union Negotiations
Planning a live event can be a bureaucratic nightmare. Fortunately, the experts at C.K. Entertainment can help as we specialize in the logistical planning, production and union negotiations for live events in the South Florida area.
To learn more about how we can help you make your performance a smashing event, contact us today.
---
For More Information or to Book your Special Event…
P: 954-436-1230
F: 954-689-4420
C: 954-610-5098
For RFP Inquiries: Click Here
Email: info@ckentertainmentinc.com
---