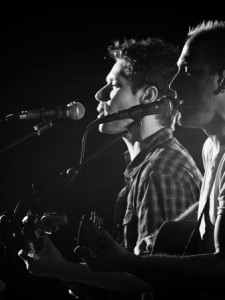 How do you pick the right band for your corporate or charity event? First things first: consider your audience and their median age. A group of senior citizens is going to have a different musical taste than soccer moms or teenagers. Different genres lend themselves well to certain groups of people. For instance, hip-hop and EDM (electronic dance music) works well for youngsters, while jazzy vocals tend to satisfy an older crowd. If your audience knows and loves Frank Sinatra, consider hiring a crooner who knows old songs like "Night and Day" and "New York, New York."
When trying to figure out what band to get for an event, ask around and see whom friends and family members mention acts they enjoyed seeing at certain events, as word-of-mouth is usually a good way to find acts. Next, do an online search in your area for bands and see what comes up on your screen. Oftentimes local bands have websites or Facebook pages with music and video samples to give you a better idea regarding what they look and sound like.
Next, consider your budget. Some acts will do charity events for free while others charge to cover expenses. It's not unusual to pay a fee to book a quality band for an event, but as the old adage goes "you get what you pay for". Singers and musicians are  often worth the investment because they bring a special atmosphere to any event. If you've ever been to an event without any music compared to one with, you know live music makers literally liven up a crowd. Ultimately, having a quality band could help charity events earn more money and generate more interest.
Finally, consider working with a booking agent or entertainment provider who knows area bands well and can help you figure out a smart choice for your type of corporate or charity event. CK Entertainment, for example, supplies many Florida events with live music. Call CK Entertainment at 954-436-1230 or email info@ckentertainmentinc.com and ask about the CK Band.