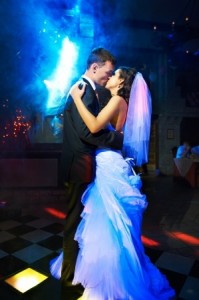 A wedding reception is known for two things: the food and the music. How can you pick the right band for your wedding reception?
Most people plan their wedding festivities months in advance. During that time, ask around to find out the names of bands friends, family members or co-workers recommend. Check out band websites. Figure out when a particular band or two has a gig you can attend, because seeing a band perform in-person is perhaps the best way to pick the right band for your own wedding. Sometimes seeing a Band is not Possible for a variety of reasons .If you can't see a band in-person, look for a recently posted online video of the band performing live. It'll give you an idea of how the band looks and acts at a wedding reception. Also Listen to the Band's Sound samples and see past client testimonials on their website.
People have different personalities, as do bands. Some are all about style and class while others are funky and cool. You can tell a lot about a band by the way they dress, what instruments they use, and the style of music they focus on. For instance, perhaps you want a well-dressed pop-jazz trio for your wedding reception, playing classic Frank Sinatra hits. That band will look and act differently than one that plays party songs from the disco era.
In general, the couple getting married should agree on a type or style of music they like best, and then look for a band that matches those needs. Country music fans pick Country bands. Jazz fans like jazz groups. And most people, in general, go with a "Top 40" or "Cover Band "that can play a broad selection of hits from the good old days as well as some current hits, too.
Meanwhile, you can always ask a band you think you'd like to perform at your reception to give you a sample set list of songs ahead of time, to ensure they'd be playing songs you (and your guests) generally know and like. A Good Wedding Band will always play your Special Dances and Requests!
After all, a wedding reception is a party for the newly-married couple and their family and friends. It's a time to celebrate, dance the night away, and have a great time. It makes sense that the band enlivens the reception with songs and a style that sets the mood for everyone to enjoy themselves.
If you're not sure where to start to look for your ideal wedding reception band, call CK Entertainment at 954-436-1230 or email info@ckentertainmentinc.com and ask about the CK Band.