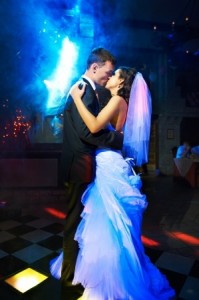 Research Your Musicians
Popular bands may be booked as many as 12 to 18 months in advance, so begin your search as early as possible. Consider the kind of celebration you'd like to have. What are your favorite styles of music? What do you believe your guests will respond to? Would you like an affair with music in the background, or would you prefer your band to take control of the party, enticing people to pack the floor and dance until the very end of the evening? You may want a combination of both scenarios.
Get referrals from other professionals who regularly hire or work with bands. Consult experts like party planners, event and sales managers of venues, and vendors such as photographers, videographers and caterers. Other useful sources for finding a band include entertainment agencies, wedding and special event publications, and organizations like the International Special Event Society, Nace and the Web.
Bands' promotional materials vary and can include photos, song lists, brochures, CD's, DVDs and elaborate Web sites. You may be able to see a band perform at a wedding, depending on their schedule and the willingness of their clients. If you can do this, plan to arrive after the meal and rituals are over, sometime during the party's last two hours. The person who invited you (the bandleader or event planner) should indicate ahead of time where you should stand; while at the party, try to be as inconspicuous as possible. Those few minutes may not be indicative of the overall experience, so referrals are still the best bet. Ask references what the bandleader is like to work with, as he sets the tone within the band as well as for the party. Appearance and presentation (not walking through the crowd in casual clothes or carrying equipment) are also important.
Work Out a Contract
Once you've chosen a band, establish the terms of your agreement. It's a common misconception that you can guarantee that the band members you saw in person or in promotional material will be available to perform at your wedding several months to a year and a half later. You can't: Turnover in entertainment is no different than in any other business. Learn about the track record and overall performance philosophy of your band to ensure that their performance at your wedding is similar to—or better than—the one that inspired you to hire them.
Live entertainment contracts are fairly similar, with boilerplate terms and conditions. However, make certain that your particular concerns and requirements are clearly addressed. This includes the specific hours and location, any additional musicians to be added to the group (extra horns or vocalists, for instance), and other services to be performed, including musicians for your ceremony and/or cocktail hour. My band often travels to engagements, so I clearly state whether the fee includes hotel, airfare or production expenses. Most clients prefer an all-inclusive rate. I also recommend working out an overtime rate, in 60-minute increments, so that you don't have to negotiate in the moment if you want to extend the party. Also in the entertainment world it is a common practice for the band to require a 50% deposit and a Force Majeure on your Contract with the band and make sure you understand it, if not Ask!
Choose the Songs
Many couples are concerned about the specific songs the band will perform. But the feel of the party and timing of the songs are also important. Generally, you want to trust the band to perform the appropriate material at the appropriate time.
But, when you provide a list of requests, consider choosing songs according to the different phases of the event. For example, to immediately establish a fun party atmosphere, request an exciting and upbeat song when the doors open; this will set the tone for the rest of the night. Think about what you might like to hear as background music during the meal. I encourage clients to focus more on what they'd like to hear than what they don't want to hear, though I'm interested in knowing both. We send a bridal information form that will include your selections for the First Dance, Mother/Father, Daughter/Father and any other special song requests and we usually ask to have these 4 weeks prior to your wedding date so we have time to learn any songs we might not know.
Discuss Breaks and Flow
Should the band take breaks or provide continuous music? The latter usually involves rotating musicians and keeping a skeleton crew onstage during quieter moments, like the meal. Some prefer the full band to break during the entrée to allow them to refresh themselves and possibly change outfits. If you are having a formally served dessert course, this can also be a good time for the band to take a break. During those times, a band can provide recorded music Some clients and planners prefer dancing between courses, while others view the night in two distinct parts, one being the exclusive enjoyment of a wonderful and elegant meal with dancing afterwards for the remainder of the evening. It is also a normal practice to supply the band with a Vendor Meal and Cold Water for the band at the stage the band is on.
Find Your Harmony
Overall, you want a band that has the ability to set a tone that reflects your vision for the party. Helping people celebrate some of the most important moments of their lives is a responsibility to be taken seriously. If you choose a band that loves what they do and understands the intricacies of running a party, you will have good memories for a lifetime. For more information contact Carey Kleiman, CK Entertainment Inc. https://www.ckentertainmentinc.com
Also here is some further advice from Martha Stewart  :
http://www.marthastewartweddings.com/226858/hiring-band-your-wedding