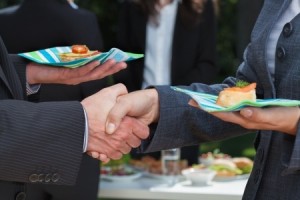 Why do you think many entrepreneurs hold functions or parties and then invite VIPs, clients and some media people?
Well, the main reason is that organizing an event presents many opportunities. For one, it's the perfect chance to make a good impression to the entities that matter. It allows them to establish a good name and image. What's more, it helps them connect with important companies, e.g. suppliers and third-party providers.
Are you aiming for these too but haven't been overly successful? You may have missed an important aspect in your planning or preparation. If you wish to make your business events the talk of the town, especially for promotional purposes, you need to take note of these important reminders.
1. Determine the reason for organizing it.
Most of the time, a corporate event is intended for marketing. Sometimes, it's meant for publicity or reputation management. It could be for networking too, especially if you're a budding entrepreneur or you're based overseas and you want to connect with other players in the market. If you're the latter and you don't speak fluent English, it's advisable that you learn the language. This way, you won't find it hard to talk with native English speakers. In turn, you can impress them with your skill to communicate articulately.
2. Come up with a theme.
This aspect is mostly reserved for parties attended by the staff, management and executives. If you're going to organize one, go ahead and make it more fun by identifying a theme. Doing so will allow you to put up decorations that suit the event.
3. Make a 'To-Do' list.
You have to create a 'to-do' list months in advance to avoid last-minute chaos, which in turn could ruin the event. Some of the essential tasks include making a guest a list, sending invites or RSVP cards (depending on the purpose), finding a caterer, hiring a band and preparing promotional items or gifts.  Of course, hiring an Entertainment Company to assist would be especially useful, and will help reduce the stress of planning an event.
4. Select vendors
There are plenty of people to hire and obtain your event needs from, and these usually include a catering company, florists or decorators, as well as entertainment, security personnel, audiovisual team, and others. You can even get in touch with an organizer to help you plan and prepare the event. This way, you can have assurances the day will out turn out smoothly, especially if you have the help of a professional, such as CK Entertainment.
Most importantly, you need to hire entertainers to ensure the guests are fully satisfied. Take note that it's not enough to fill their stomachs, you have to retain their attention and interest before and after the food is served. If you're looking for a one-of-a-kind entertainment idea, find out how CK Entertainment can keep everyone on in amazement. 
5. Plan a layout for the venue.
Plenty of people make the mistake of placing the drinks station in the corner, making it difficult to access. Keep from committing the same blunder by going to the venue location a month or couple weeks early to plan the layout. There should be proper arrangement of the furniture, stage, and food and drinks sections.
6. Create a budget.
If there's an aspect that you need to place much emphasis on, it should be the money allocated for the event. The best way to come up with the right amount is to determine everything you have to spend on, e.g. venue, decorations, entertainment food and giveaways.
7. Advertise.
You should advertise at least one month before the event or after you have sent invitations and RSVPs to ensure it gets maximum exposure. There are many ways to promote, from traditional – e.g. flyers and posters – to digital methods – e.g. on your business's social media account and website.
What do you think, will this guide help make your corporate events more successful? Well, you won't know unless you apply them in your next preparations. So, take these tips into mind when planning your next major function.